SCATTERED PAGES - REVIEWS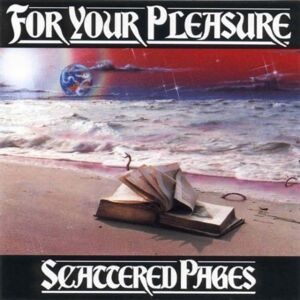 sorted alphabetically by name of magazine/music portal:
Heavy (Germany)
Live-In (Germany)
Musikexpress (Germany)
Prinz (Germany)
Progarchives (international)
Stereoplay (Germany)
»The original name of the band already tells you everything about what you can expect on the album Scattered Pages. It is absolutely a pleasure for the ears to listen to the musical outpouring of the band. This material has much diversity with in it. Everything from pop tracks to hard rock numbers and up to progressive pieces is covered. The sound quality is excellent, the cover exquisite ... Scattered Pages is an album suitable not only for car travels, but also for turning boring evenings into pleasant ones.«
Detlef Dengler (1992)
»... This is the astoundingly mature debut album Scattered Pages with pure romantic rock songs of different moods. It is an album that stands well above other contempory first works in its musical quality. A hopeful start.«
Julie Schröder (1992)
Musikexpress (Germany)
»... Somewhwere between the fluty-folk of JETHRO TULL and the singing solo-guitar of PINK FLOYD you'll find these newcomers with their relaxing pop-aesthetics. A conservative but full bodied debut.«
Uwe Schleifenbaum (1992)
Prinz (Germany)
»... Shades of PINK FLOYD can't be discounted. The romantic tendency is obvious. The debut album Scattered Pages creates mood and atmosphere and is really worth listening in to. And how? Grab a cup of tea, lean back, relax and enjoy this interesting album.«
Stefanie Schulze (1973)
Progarchives (international)
»The disc starts rather promisingly with the expansive "Another Future" which combines electronic drums and 'cheesy' plastic keyboards that parallel the Paul Vettese era in Jethro Tull, which gave way to disparagingly mauled albums such as "Under Wraps" and Anderson's otherwise brilliant IMHO "Walking in Light" albums that I personally have enjoyed despite (or perhaps because of) the critical backlash. The playing is profound as Greeko does some wonderful damage on acoustic guitar. Hey, it sounds like 1993 because it is from 1993. Very good.
Where things may get sketchy for some is the pseudo-funk-pop of "This Game" which almost veers into Fiction Factory/Naked Eyes/ABC new Wave disco (bands that I enjoyed back when there was little prog on the menu) . The bouncy arrangement is very predictable and obvious, instant gratification but with only a slight prog tendency (that would be the fiery guitar solo and the 'spinning coin' effect). Good!
"The Painterman" is breezy and utterly disposable, a tune with little or no prog content save for a corny orchestral section that is puerile at best (nothing wrong with childlike, after all New Muzik was an awesome and creative synth-pop band in the 80s). But this is a cup of tea that needed a longer steep. Even the axe solo is trivial. Not good!
Back to quality with the longer and more developed "November Day", an inspired acoustic guitar carves a gorgeous almost Andalusian melody, evoking castles in Castile and a lead guitar solo that is enthralling and explosive. This is an all-instrumental effort that exudes class, majestic power and long shelf life. The piece flows effortlessly and basks in a sunny grandeur. A definite highlight track. Excellent!
Return to Jethro Tull for a second, as Lutz displays a voice eerily Andersonian, some will call plagiarism (please, let's not go there, as everything is borrowed from a previous source) but it all depends on the delivery and the content, both above average indeed. "Only We Are Trying to Be" could fool any JT fan into believing this to be along lost track from The "Broadsword & the Beast" sessions. Really good!
The 6 minute+ "The Perfect Single" is a return to the foreseeable which perhaps explains the tongue in cheek title. The instrumental parts are very convincing, with solid bass and great psychedelic guitar, propulsive drums and a driving disposition. The problem is with the singing which is less conclusive and the lyrics that verges on, as Zappa once so adequately put it, 'creamed corn'! Okay!
With a title like "I Want You Now", the prog purists will be instantly turned off, especially when they read the lyrics. Even the guitar part is, well, simple. There is zero invention here. Ok, next station.
Another long instrumental comes charging through the woods, like Bluecher at Waterloo, saving the battle from near defeat and reversing the fortunes of this disc, once again. "Standing On Changing Sunset" sees itself to be at the polar opposite of the previous pop, a modern synth-infused track that owes its inspiration from Anderson's afore mentioned "Walking Into Light" album and is the most progressive piece here. I am sure that if this would have been the basic premise, the album would have been more appreciated by prog fans, as this is a somber, effusive, expansive and most creative piece. Wonderful!
"A Short Letter", as the title implies, is a brief ditty, owing to the Tull song experience once again. It comes and it goes. Thank you!
The majestic 8 minute + "The Damaged Book" again showcases the see-saw battle between the two contrasting styles, a polar opposite to the previous ode, here preferring a brooding, dense and oppressive mood , armed with smart lyrics and funeral march. Synths hover over a solemn beat, dreamy and vaporous like some foggy mist creeping in from the multiple lakes that adorn the German capital city. A classic track that will join my daily playlists. Darling!
"Goodbye" is expressed by a small reprise of "November Day" on keys instead of guitar.
So, as it is often the case with a debut work, there is a pot-pourri of styles, befitting a band looking for some identity, dropping various fishing lines to see which will get a bite. Having Tull as an influence is certainly nothing to be ashamed of but the cheesy pop songs are somewhat embarrassing in hindsight. The mixed bag offers tasty morsels as well as disposable fodder. The best is yet to come.«
Thomas Szirmay (10/2014)
Stereoplay (Germany)
»... FOR YOUR PLEASURE dedicate themselves to melodic romantic folkpop integrating elements from PINK FLOYD to BARCLAY JAMES HARVEST and the acoustic JETHRO TULL. Modern stylistic influences manifest themselves in a relaxed sound and a believable approach to the almost philosophical lyrics. ...«
Matthias Inhoffen (1973)