REFLECTION CLUB - Still Thick as a Brick - Download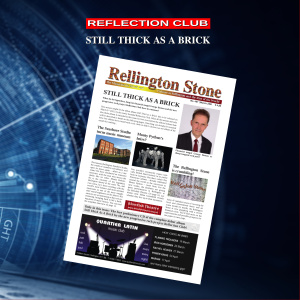 DL 2101
Still Thick as a Brick
Complete album as download
Part 1: Prelude (2:00)
Part 2: Time out (4:03)
Part 3: Years on the Fast Track (3:31)
Part 4: Rellington Town (6:17)
Part 5: The Club of Hopeful Pinions (3:55)
Part 6: The Foray of the Sharks (5:37)
Part 7: Sentimental Depreciation (5:19)
Part 8: Nervesoothers (3:10)
Part 9: The Great Dance around the Golden Calf (3:35)
Part 10: Bedlam (5:48)
Part 11: Look across the Sea (4:24)
All tracks written, arranged and produced by Lutz Meinert.
Lyrics by Lutz Meinert and George Boston.
Full members of Reflection Club, who where significantly involved in the production:
Nils Conrad
electric guitar
Paul Forrest
lead vocals, acoustic guitar, flute on Part 2: Time out
Ulla Harmuth
flute on all pieces except Part 2: Time out
Lutz Meinert
drums and percussion, organ, grand piano, harpsicord, electric bass, double bass, vibraphone,
chimes, background vocals on some tracks
Guest musicians:
The Rellington Resort Orchestra, conducted by Laura Palmer
Vanessa Wiltshire – Solo violin on Part 6 - Senti­mental Depreciation and Part 10 - Bedlam
The Little Indian Restaurant Ensemble – Sitar and percussion
The Bagpipe Club Willy Scotty – Bagpipes and piccolo flutes
Some strong-voiced members of the Rellington Football Club - Shouts and insane noise.
Lead vocals, acoustic guitar and flute on Part 2: Time out recorded by Paul Forrest at Woodland Studios.
Electric guitars recorded by Nils Conrad at Bottstaedter Studio, Schwante.
All other instruments and background vocals recorded by Lutz Meinert at Imago-Studio, Berlin.
Mixing and mastering of stereo and 5.1 surround sound by Lutz Meinert.
Cover design by Lutz Meinert.